You can email your saved trainings from here. Enter in a list of email addresses (separate them with commas).
| | |
| --- | --- |
| Email Address(es): | |
| Your Name: | |
Training Calendar Search
Search Results
| | |
| --- | --- |
| RA | - Gateways to Opportunity Registry-approved Training |
| RV | - Gateways to Opportunity Registry Verified |
| GC | - May Meet Requirements for Gateways Credential(s) |
| QRS | - Approved for QRS |
| EX | - Approved for ExceleRate |
June 24, 2017
08:30 AM - 04:30 PM
Gurnee, Illinois
Este curso proporciona información sobre el cuidado de los niños con necesidades especiales en el marco típico de cuidado infantil. La formación ayuda a aumentar el nivel de conocimiento y la comodidad de los participantes a mejorar su capacidad para cuidar de los niños pequeños con discapacidad en entornos de primera infancia. Se debatirá sobre las adaptaciones y modificaciones que ayuden a todos los niños a participar en las actividades. Esto cumple con el requisito de DCFS para los proveedores de la primera infancia en un entrenamiento especial atención inclusión.
June 26, 2017
06:30 PM - 08:30 PM
Gurnee, Illinois
Todos aquellos que sospechan de abuso o negligencia infantil deben llamar al Departamento de Servicios para Ninos y Familias del Estado de Illinois (DCFS por sussiglas en ingles) para hacer un reporte, pero los delatores bajo mandato por ley, estanobligados a hacerio. El proposito de este taller es entender la importacia que los Delatores por Ley tienen en proteger a los ninos, reconociendo y reportando abuso onegligencia infantil. Tambien, los participantes recibiran informacion para identificar los pasos y herramientas necesarias para hacer un reporte de abuso o negligencia.**Esta clase es un requerimiento de DCFS para las proveedoras de cuidado de niños.
July 8, 2017
08:30 AM - 04:30 PM
Gurnee, Illinois
Este curso de entrenamiento repasa los aspectos del crecimiento y desarrollo de un niño en su primera infancia. Se efectúa un repaso de los varios métodos comerciales de identificación, que brindan a los proveedores de cuidados para niños más opciones para supervisar el desarrollo típico de un niño. El uso de estudios de casos permite a los participantes aprender de manera práctica el uso de distintos métodos de identificación del desarrollo y les enseña las normas de guía que deben seguir para remitir a los niños a programas de intervención temprana.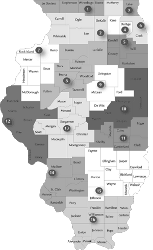 Consists of seven foundational areas and their related indicators, identified by the Professional Development Advisory Council (PDAC), that identify professional competencies, including:
Human Growth and Development
Health, Safety, and Well-Being
Observation and Assessment
Curriculum or Program Design
Interactions, Relationships, and Environments
Family and Community Relationships
Personal and Profession Development