You can email your saved trainings from here. Enter in a list of email addresses (separate them with commas).
| | |
| --- | --- |
| Email Address(es): | |
| Your Name: | |
Training Calendar Search
Search Results
| | |
| --- | --- |
| RA | - Gateways to Opportunity Registry-approved Training |
| RV | - Gateways to Opportunity Registry Verified |
| GC | - May Meet Requirements for Gateways Credential(s) |
| QRS | - Approved for QRS |
| EX | - Approved for ExceleRate |
June 24, 2017
08:00 AM - 11:00 AM
Chicago, Illinois
Si usted es responsable de proporcionar un bocadillo rápido o una comida bien balanceada, entender las necesidades dietéticas de los niños crea niños más sanos y felices. Aprenda los conceptos básicos de una buena nutrición, seguridad alimentaria y diversas prácticas relacionadas con la nutrición a través de esta clase que ofrece actividades prácticas y discusiones prácticas que harán que la ciencia y la buena nutrición sean fáciles de entender.
June 24, 2017
11:30 AM - 02:30 PM
Chicago, Illinois
La seguridad de un niño es la preocupación número uno para los padres y proveedores de cuidado de niños por igual. En esta clase, usted identificará consejos para la creación de un entorno más seguro de cuidado en grupo, afrontará el tema de los abusos y el abandono, y aprenderá más acerca de la preparación para emergencias y primeros auxilios.
June 27, 2017
06:00 PM - 09:00 PM
Chicago, Illinois
As our partner in child development, families—especially parents—directly affect a child's learning. In this class, you will learn new ways of working with parents to help their children enjoy learning. You also will explore the social world of a family to be sure that the learning that takes place in your care is consistent with learning done at home.
June 29, 2017
06:00 PM - 09:00 PM
Chicago, Illinois
What does it mean to be a child care professional? How can you be sure you are getting the support and supplies you need? How can you set effective limits with parents and children alike? In this final class, you will learn about your own professional development and how to take care of yourself so you can continue to care for others.
July 6, 2017
06:00 PM - 09:00 PM
Chicago, Illinois
Newborns and young babies are developing at an incredible rate, causing them to have special needs unlike older children. In this fourth class, you will understand how children from birth to 8 months learn and grow, and how to individualize their care accordingly.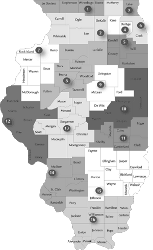 Consists of seven foundational areas and their related indicators, identified by the Professional Development Advisory Council (PDAC), that identify professional competencies, including:
Human Growth and Development
Health, Safety, and Well-Being
Observation and Assessment
Curriculum or Program Design
Interactions, Relationships, and Environments
Family and Community Relationships
Personal and Profession Development