You can email your saved trainings from here. Enter in a list of email addresses (separate them with commas).
| | |
| --- | --- |
| Email Address(es): | |
| Your Name: | |
Training Calendar Search
Search Results
| | |
| --- | --- |
| RA | - Gateways to Opportunity Registry-approved Training |
| RV | - Gateways to Opportunity Registry Verified |
| GC | - May Meet Requirements for Gateways Credential(s) |
| QRS | - Approved for QRS |
| EX | - Approved for ExceleRate |
June 24, 2017
08:30 AM - 05:00 PM
Macomb, Illinois
This training reviews child growth and development in early childhood environments. A review of several commercial screening tools is discussed to allow child care practitioners more options on monitoring a child's typical development. Case studies provide hands-on learning for the participant on use of a developmental screening tool and guidelines for referral to an early intervention program.
June 24, 2017
09:00 AM - 12:00 PM
Galesburg, Illinois
In this final session on preschool development, you will dive deeper into how preschoolers learn and identify tips for making learning fun. With suggestions for activities that encourage your preschoolers to explore numbers, shapes, colors, and science, this class gives all the information you need to grow and stretch the ability of children to think and understand.
June 24, 2017
01:00 PM - 04:00 PM
Galesburg, Illinois
Completing the important section on child development, this class looks at school-age children to uncover how their learning and growth differs. With tips on how to better care for school-aged youth, this class also offers you guidance on how to set rules and limits and to get your school-aged kids to appreciate safety and respect.
June 29, 2017
06:30 PM - 08:30 PM
Galesburg, Illinois
For some, the word "math" alone can create anxiety, let alone having to think about teaching it to young children.  Math in the early childhood setting is more than numbers and counting.  Math is everywhere…at the snack table, in the books you read, outside on the playground, everywhere!  This training will help you identify a variety of math topics and developmentally appropriate activities that can be used to increase the early math skills of children in your care.
July 6, 2017
06:00 PM - 08:00 PM
Moline, Illinois
In this interactive workshop, we provide information about yoga and mindfulness practices being used in schools, accompanied by research-supported rationales and connections to IL standards. We suggest a template for before/after school programs; demonstrate a few exercises;discuss teacher training and teacher practice; highlight our favorite curriculum and materials; and share web-accessible, and print resources.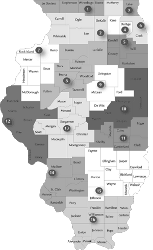 Consists of seven foundational areas and their related indicators, identified by the Professional Development Advisory Council (PDAC), that identify professional competencies, including:
Human Growth and Development
Health, Safety, and Well-Being
Observation and Assessment
Curriculum or Program Design
Interactions, Relationships, and Environments
Family and Community Relationships
Personal and Profession Development