You can email your saved trainings from here. Enter in a list of email addresses (separate them with commas).
| | |
| --- | --- |
| Email Address(es): | |
| Your Name: | |
Training Calendar Search
Search Results
| | |
| --- | --- |
| RA | - Gateways to Opportunity Registry-approved Training |
| RV | - Gateways to Opportunity Registry Verified |
| GC | - May Meet Requirements for Gateways Credential(s) |
| QRS | - Approved for QRS |
| EX | - Approved for ExceleRate |
October 28, 2017
09:00 AM - 12:30 PM
Rockford, Illinois
In this training, participants will define developmentally appropriate practice (DAP) as well as recognize the importance of DAP when caring for mixed ages of children. Components of a safe and healthy family child care environment serving mixed ages of children will be discussed as well as identifying areas for program improvement.
October 28, 2017
08:00 AM - 05:00 PM
Rockford, Illinois
Program for Infant Toddler Care (PITC) is designed to help child care directors and infant/toddler care teachers become sensitive to infants' cues, connect with their family and culture, and develop responsive, relationship-based care. This training takes an in-depth look at cognitive and social-emotional development, encouraging growth within daily routines and tips on setting up appropriate environments for experienced infant and toddler professionals.
October 30, 2017
06:00 PM - 08:00 PM
Rockford, Illinois
ExceleRate! Illinois is the quality rating and improvement system for licensed family child care, licensed child care centers, Head Start, and Preschool for All programs. This orientation provides family child care providers an overview of the goals, quality indicators, benefits of participation, application process, and the system supports available for success at reaching each Circle of Quality.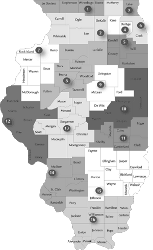 Consists of seven foundational areas and their related indicators, identified by the Professional Development Advisory Council (PDAC), that identify professional competencies, including:
Human Growth and Development
Health, Safety, and Well-Being
Observation and Assessment
Curriculum or Program Design
Interactions, Relationships, and Environments
Family and Community Relationships
Personal and Profession Development