You can email your saved trainings from here. Enter in a list of email addresses (separate them with commas).
| | |
| --- | --- |
| Email Address(es): | |
| Your Name: | |
Training Calendar Search
Search Results
| | |
| --- | --- |
| RA | - Gateways to Opportunity Registry-approved Training |
| RV | - Gateways to Opportunity Registry Verified |
| GC | - May Meet Requirements for Gateways Credential(s) |
| QRS | - Approved for QRS |
| EX | - Approved for ExceleRate |
August 26, 2017
08:30 AM - 02:30 PM
Gurnee, Illinois
You'll learn and review skills and then practice them hands on. Participants are expected to stay for the whole training and pass an exam at the end to receive their CPR and First Aid cards.
August 28, 2017
06:30 PM - 08:30 PM
Gurnee, Illinois
Todos aquellos que sospechan de abuso o negligencia infantil deben llamar al Departamento de Servicios para Ninos y Familias del Estado de Illinois (DCFS por sussiglas en ingles) para hacer un reporte, pero los delatores bajo mandato por ley, estanobligados a hacerio. El proposito de este taller es entender la importacia que los Delatores por Ley tienen en proteger a los ninos, reconociendo y reportando abuso onegligencia infantil. Tambien, los participantes recibiran informacion para identificar los pasos y herramientas necesarias para hacer un reporte de abuso o negligencia.**Esta clase es un requerimiento de DCFS para las proveedoras de cuidado de niños.
August 30, 2017
06:30 PM - 08:30 PM
Gurnee, Illinois
Join this informative session to become more familiar with the Illinois Child Care Assistance Program's (CCAP) policy and procedures, including the application process, provider qualifications, the payment process and parent co-payments. The CCAP is funded by the IL Department of Human Services.
August 30, 2017
06:30 PM - 08:30 PM
Gurnee, Illinois
Building stronger connections in your family, classroom, or team will increase their willingness to solve problems together rather than fight against each other. Many parents and teacher are delighted to find that attending seeking behaviors in children are automatically reduced at this stage, which isn't surprising since most people crave connection more than attention.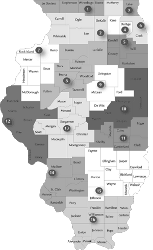 Consists of seven foundational areas and their related indicators, identified by the Professional Development Advisory Council (PDAC), that identify professional competencies, including:
Human Growth and Development
Health, Safety, and Well-Being
Observation and Assessment
Curriculum or Program Design
Interactions, Relationships, and Environments
Family and Community Relationships
Personal and Profession Development