You can email your saved trainings from here. Enter in a list of email addresses (separate them with commas).
| | |
| --- | --- |
| Email Address(es): | |
| Your Name: | |
Training Calendar Search
Search Results
| | |
| --- | --- |
| RA | - Gateways to Opportunity Registry-approved Training |
| RV | - Gateways to Opportunity Registry Verified |
| GC | - May Meet Requirements for Gateways Credential(s) |
| QRS | - Approved for QRS |
| EX | - Approved for ExceleRate |
October 20, 2017
06:30 AM - 09:30 AM
Carpentersville, Illinois
Presented by: Amy Weseloh
This course will discuss first aid basics, CPR for adults/children/infants, how to use an AED, and barrier mask. Pediatric first aid will describe the immediate care that you give someone with an illness or injury before someone with advanced training arrives and takes over. CPR and First Aid may help someone recover more completely or more quickly and may mean the difference between life and death. The AHA Certification is valid for 2 years for both components, CPR and First Aid.
October 26, 2017
06:30 PM - 08:30 PM
Elgin, Illinois
Did you know that positive, active, engagement between families and Early Care & Education Professionals result in improvement of children's cognitive, academic, social skills and overall wellbeing? When families are truly engaged, both the program and the families are responsible for progress toward positive outcomes for children and the program as a whole. We invite you to come learn the difference between involving parents and actively engaging parents.  Come be part of the conversation!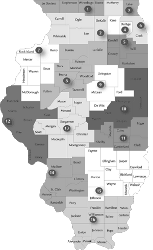 Consists of seven foundational areas and their related indicators, identified by the Professional Development Advisory Council (PDAC), that identify professional competencies, including:
Human Growth and Development
Health, Safety, and Well-Being
Observation and Assessment
Curriculum or Program Design
Interactions, Relationships, and Environments
Family and Community Relationships
Personal and Profession Development