You can email your saved trainings from here. Enter in a list of email addresses (separate them with commas).
| | |
| --- | --- |
| Email Address(es): | |
| Your Name: | |
Training Calendar Search
Search Results
| | |
| --- | --- |
| RA | - Gateways to Opportunity Registry-approved Training |
| RV | - Gateways to Opportunity Registry Verified |
| GC | - May Meet Requirements for Gateways Credential(s) |
| QRS | - Approved for QRS |
| EX | - Approved for ExceleRate |
October 18, 2017
09:00 AM - 03:00 PM
Gurnee, Illinois
Presented by: Kathy Slattery
The Early Childhood Environment Rating Scale (ECERS) was designed to assess process quality by looking at what children directly experience in their Early Childhood classroom. This session will introduce participants to the newly updated ECERS tool, the ECERS-3, which will be used to assess Preschool for All and Preschool for All Expansion programs. The ECERS-3 includes improvements in both content and administration and relies on classroom observations with greater emphasis on interactions, the teacher's role, language & literacy, and math. Participants will explore this quality improvement tool as a guide in creating early childhood environments and learning experiences that result in positive outcomes for children.
October 18, 2017
to October 19, 2017
06:30 PM - 08:30 PM
Arlington Heights, Illinois
Participants will define developmentally appropriate practice and review the benefits of various curricula approaches. Through group activities and discussion on the use of effective curriculum, participants will be able to determine which curriculum approach best fits their program.
October 19, 2017
to October 23, 2017
09:00 AM - 03:00 PM
Downers Grove, Illinois
Presented by: Kim Brown, Sheila White
We will illustrate the principles of Applied Behavior Analysis with an emphasis on Verbal Behavior (VB) to promote important skill acquisition with the use of effective research-based instructional practices. We will emphasize teaching VB as it is applied effectively in classroom and 1:1 settings. Through the use of group discussion, hands-on activities & video, participants will learn the key functions of communication & how to teach communication to students with autism & other developmental delays. Participants will also learn how to create & support VB programming to increase engagement, develop other important skills & generalize skills throughout the day.
October 19, 2017
06:30 PM - 09:30 PM
Oak Forest, Illinois
Ensuring a child's health and well being requires more than basic first aid and emergency contacts. In this class, you will learn how to help the growth of healthy children—from the basics like hand washing to a more in-depth look at various practices surrounding health care.
October 19, 2017
06:00 PM - 09:00 PM
Chicago, Illinois
A child's safety is the number one concern for parents and child care providers alike. In this third class, you will identify tips for creating a safer group care environment, confront the issue of abuse and neglect, and learn more about emergency preparedness and first aid.
October 19, 2017
06:00 PM - 09:00 PM
Chicago, Illinois
La seguridad de un niño es la preocupación número uno para los padres y proveedores de cuidado de niños por igual. En esta clase, usted identificará consejos para la creación de un entorno más seguro de cuidado en grupo, afrontará el tema de los abusos y el abandono, y aprenderá más acerca de la preparación para emergencias y primeros auxilios.
October 19, 2017
01:00 PM - 03:00 PM
Arlington Heights, Illinois
Join this informative session to become more familiar with the Illinois Child Care Assistance Program's (CCAP) policy and procedures, including the application process, provider qualifications, the payment process and parent co-payments. The CCAP is funded by the IL Department of Human Services.
October 20, 2017
09:00 AM - 11:00 AM
Chicago, Illinois
Presented by: Bobbie Vergo
This training takes a detailed look in how executive function develops in children. There is an extensive review of the 3 main areas of executive functioning and what strategies can be used to help kids develop these skills. The presenter will use the latest research to support the content of the presentation Objectives: Discuss the 3 main executive functions in detail Learn how children develop executive function skills Review scaffolding techniques Gain understanding of the risk factors for developing an executive functioning issue
October 20, 2017
10:00 AM - 01:00 PM
Chicago, Illinois
Whether you are responsible for providing a quick snack or a well-balanced meal, understanding children's dietary needs creates healthier and happier kids. Learn the basics of good nutrition, food safety, and various practices surrounding nutrition through this class that offers hands-on activities and practical discussions that will make science and good nutrition easy to understand.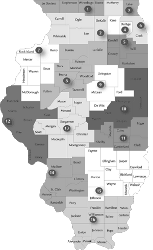 Consists of seven foundational areas and their related indicators, identified by the Professional Development Advisory Council (PDAC), that identify professional competencies, including:
Human Growth and Development
Health, Safety, and Well-Being
Observation and Assessment
Curriculum or Program Design
Interactions, Relationships, and Environments
Family and Community Relationships
Personal and Profession Development