You can email your saved trainings from here. Enter in a list of email addresses (separate them with commas).
| | |
| --- | --- |
| Email Address(es): | |
| Your Name: | |
Training Calendar Search
Search Results
| | |
| --- | --- |
| RA | - Gateways to Opportunity Registry-approved Training |
| RV | - Gateways to Opportunity Registry Verified |
| GC | - May Meet Requirements for Gateways Credential(s) |
| QRS | - Approved for QRS |
| EX | - Approved for ExceleRate |
April 29, 2017
09:00 AM - 01:00 PM
Chicago, Illinois
Introducción a las Escalas de Clasificación del Entorno es para la familia y los proveedores de Cuidado de Niños Centro. Después de completar esta formación, los profesionales de cuidado de niños tendrán conocimiento de la ERS, ser capaz de utilizar herramientas para la autoevaluación del programa y contratar a un consultor para el uso de herramientas para la evaluación, podrá usar ERS resultados para planear mejoras del programa; tener en cuenta de los vínculos de a la Una Introducción al Ambiente Familiar de la Guardería que Valora Escala-Revisado a los procesos nacionales de acreditación, Estándares de Aprendizaje Temprano de Illinois y el Departamento de Servicios Humanos de Illinois (IDHS) Calidad del sistema.
April 29, 2017
09:00 AM - 01:30 PM
Arlington Heights, Illinois
Este curso de entrenamiento explica a los profesionales de educación inicial los aspectos generales de las normas de guía para niños desde su nacimiento hasta la edad de tres años. El curso brinda a proveedores y profesionales de servicios los conceptos básicos de lo que se espera que los niños sean capaces de saber y hacer en múltiples áreas desde que nacen hasta la edad de tres años.
April 29, 2017
to May 6, 2017
09:00 AM - 05:30 PM
Homewood, Illinois
Family child care providers will explore key elements of curriculum that support children's development through all domains during the early years, infancy through kindergarten age. Five domains of development will be explored: physical, cognitive, communication and language, social and emotional, and approaches to learning. Necessary elements to support high quality family child care programs will be explored, including establishing a safe and supportive family child care program, partnering with families, and establishing program policies and practices.
April 29, 2017
09:00 AM - 05:30 PM
Hazel Crest, Illinois
Program for Infant Toddler Care is designed to help child care directors and infant/toddler care teachers become sensitive to infants' cues, connect with their family and culture, and develop responsive, relationship-based care. This training takes an in-depth look at cognitive and social-emotional development, encouraging growth within daily routines and tips on setting up appropriate environments for experienced infant and toddler professionals.
April 29, 2017
09:00 AM - 12:00 PM
Oak Lawn, Illinois
Si usted es responsable de proporcionar un bocadillo rápido o una comida bien balanceada, entender las necesidades dietéticas de los niños crea niños más sanos y felices. Aprenda los conceptos básicos de una buena nutrición, seguridad alimentaria y diversas prácticas relacionadas con la nutrición a través de esta clase que ofrece actividades prácticas y discusiones prácticas que harán que la ciencia y la buena nutrición sean fáciles de entender.
April 29, 2017
01:00 PM - 04:00 PM
Oak Lawn, Illinois
La seguridad de un niño es la preocupación número uno para los padres y proveedores de cuidado de niños por igual. En esta clase, usted identificará consejos para la creación de un entorno más seguro de cuidado en grupo, afrontará el tema de los abusos y el abandono, y aprenderá más acerca de la preparación para emergencias y primeros auxilios.
April 29, 2017
08:00 AM - 11:00 AM
Chicago, Illinois
Whether you are responsible for providing a quick snack or a well-balanced meal, understanding children's dietary needs creates healthier and happier kids. Learn the basics of good nutrition, food safety, and various practices surrounding nutrition through this class that offers hands-on activities and practical discussions that will make science and good nutrition easy to understand.
April 29, 2017
11:30 AM - 02:30 PM
Chicago, Illinois
A child's safety is the number one concern for parents and child care providers alike. In this third class, you will identify tips for creating a safer group care environment, confront the issue of abuse and neglect, and learn more about emergency preparedness and first aid.
May 1, 2017
06:30 PM - 09:30 PM
Chicago, Illinois
To know how to best help children in your care, it is important to observe them and identify their specific needs. This session will define the different kinds of observation you can use when caring for children and how to offer more effective guidance and discipline.
May 2, 2017
06:30 PM - 09:30 PM
Chicago, Illinois
Como nuestro socio en el desarrollo del niño, la familia -sobre todo los padres- afecta directamente el aprendizaje del niño. En esta clase, aprenderá nuevas formas de trabajar con los padres para ayudar a sus niños a disfrutan aprendiendo. También explorará el mundo social de una familia para asegurarse de que el aprendizaje que tiene lugar bajo su cuidado concuerda con el aprendizaje hecho en casa.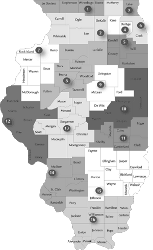 Consists of seven foundational areas and their related indicators, identified by the Professional Development Advisory Council (PDAC), that identify professional competencies, including:
Human Growth and Development
Health, Safety, and Well-Being
Observation and Assessment
Curriculum or Program Design
Interactions, Relationships, and Environments
Family and Community Relationships
Personal and Profession Development