You can email your saved trainings from here. Enter in a list of email addresses (separate them with commas).
| | |
| --- | --- |
| Email Address(es): | |
| Your Name: | |
Training Calendar Search
Search Results
| | |
| --- | --- |
| RA | - Gateways to Opportunity Registry-approved Training |
| RV | - Gateways to Opportunity Registry Verified |
| GC | - May Meet Requirements for Gateways Credential(s) |
| QRS | - Approved for QRS |
| EX | - Approved for ExceleRate |
October 21, 2017
08:45 AM - 10:15 AM
Moline, Illinois
One out of every four students enrolled in K-12 have been exposed to a traumatic event, which can affect classroom learning and behavior (The National Child Traumatic Stress Network). The instinctual behavior for the child may be disruptive to traditional community settings with manifestations of: fight, flight or freeze.  Additionally those that administer to the needs of children exposed to trauma also may suffer from the affects of working with this vulnerable population. This class will provide an review of trauma informed pedagogy with a focus on evidence-based strategies for working with these children using positive behavior approaches that encourage empowerment and develop resiliency.
October 21, 2017
10:30 AM - 12:00 PM
Moline, Illinois
This training will focus on the principles of universal design for learning (UDL) and culturally responsive teaching (CRT) as the means to support teachers in planning for students with diverse learning needs. Students with disabilities, students from different race, ethnic, and linguistic backgrounds; and from low SES households have traditionally experienced an achievement gap and subsequent graduation gap in school. Using these pedagogies, teachers are guided to instead view this as an opportunity gap. The UDL and CRT frameworks assist teachers with planning to provide appropriate levels of support and challenge for every learner.
October 25, 2017
06:00 PM - 07:00 PM
Galesburg, Illinois
Quality matters in child care. Learn about the statewide Quality Counts Quality Rating System (QRS) for license exempt family child care providers, a program to help improve quality of care. The Orientation covers QRS eligibility and training requirements, application process, and supports and resources available. Providers serving children on the State Child Care Assistance Program (CCAP) may also receive a bonus to the standard payment rate. A provider must attend this session prior to applying to Quality Counts QRS.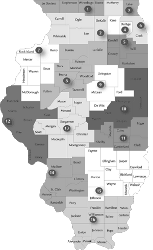 Consists of seven foundational areas and their related indicators, identified by the Professional Development Advisory Council (PDAC), that identify professional competencies, including:
Human Growth and Development
Health, Safety, and Well-Being
Observation and Assessment
Curriculum or Program Design
Interactions, Relationships, and Environments
Family and Community Relationships
Personal and Profession Development