You can email your saved trainings from here. Enter in a list of email addresses (separate them with commas).
| | |
| --- | --- |
| Email Address(es): | |
| Your Name: | |
Training Calendar Search
Search Results
| | |
| --- | --- |
| RA | - Gateways to Opportunity Registry-approved Training |
| RV | - Gateways to Opportunity Registry Verified |
| GC | - May Meet Requirements for Gateways Credential(s) |
| QRS | - Approved for QRS |
| EX | - Approved for ExceleRate |
August 22, 2017
04:00 AM - 05:30 PM
Macomb, Illinois
Paraeducators have long been considered valuable members of the preschool team. Working alongside and under the direction of teachers and other certified professionals, these staff members assist and support teachers in many different ways. Join us in this webinar to look for opportunities to enhance the partnerships between paraeducators and teachers to implement best practices in the early childhood classroom. We will look at how to define roles, determine responsibilities, and support ongoing communication with paraeducators. Strategies to support paraeducators in learning how to collect data, provide accommodations, and scaffold for young children will also be shared. Collaboration as a team is a key component, so teams of teachers and paraeducators are encouraged to attend together.
August 22, 2017
06:00 PM - 09:00 PM
Bloomington, Illinois
Whether you are responsible for providing a quick snack or a well-balanced meal, understanding children's dietary needs creates healthier and happier kids. Learn the basics of good nutrition, food safety, and various practices surrounding nutrition through this class that offers hands-on activities and practical discussions that will make science and good nutrition easy to understand.
August 22, 2017
06:30 PM - 10:00 PM
Aurora, Illinois
This training gives participants an overview of important factors for implementing a curriculum as well as reviewing indicators of a high quality curriculum. Participants will identify strategies for using curriculum in their program every day and produce an action plan for implementing curriculum with fidelity into their program.
August 23, 2017
06:30 PM - 09:30 PM
Chicago, Illinois
Toddlers are an energetic bunch who requires plenty of stimulation and education. In this final section of child development training, you will explore how children age 18 to 36 months learn language, learn to think, learn to move, and learn feelings, so you can better nurture this often curious age group.
August 23, 2017
04:00 PM - 05:30 PM
Macomb, Illinois
Join us in this introductory webinar as we discuss one of the components of an effective preschool environment: the structure of the day. A well-thought-out daily schedule provides children with a sense of security and control, choices, and active learning to meet group and individual goals. During this webinar, we will look at developmental needs of preschool children in order to develop classroom schedules and routines that are child-friendly and meet current state requirements. If you are new to developing schedules or are looking for tips and ideas to make your classroom schedule run smoothly, this webinar is for you!
August 23, 2017
06:30 PM - 08:30 PM
Addison, Illinois
Join this informative session to become more familiar with the Illinois Child Care Assistance Program's (CCAP) policy and procedures, including the application process, provider qualifications, payment process and parent co-payments. The CCAP is funded by the Illinois Department of Human Services.
August 23, 2017
01:00 PM - 02:00 PM
Bloomington, Illinois
Are you the director or administrator of a child care center that receives payment for providing care to children through the IDHS Child Care Assistance Program (CCAP)? Are you working to help ensure your program meets the 9/30/17 IDHS CCAP Training Requirements? If so, this webinar is for you! The Gateways Registry has several resources to help you track progress toward meeting these requirements, including a new program-level report. You will learn how to use the Gateways Registry Director Portal to maintain an up-to-date staff listing, access the new program-level IDHS CCAP Training Requirements report, and troubleshoot with staff if requirements are not listed as being met.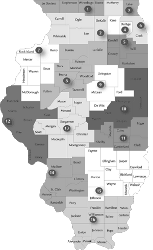 Consists of seven foundational areas and their related indicators, identified by the Professional Development Advisory Council (PDAC), that identify professional competencies, including:
Human Growth and Development
Health, Safety, and Well-Being
Observation and Assessment
Curriculum or Program Design
Interactions, Relationships, and Environments
Family and Community Relationships
Personal and Profession Development