You can email your saved trainings from here. Enter in a list of email addresses (separate them with commas).
| | |
| --- | --- |
| Email Address(es): | |
| Your Name: | |
Training Calendar Search
Search Results
| | |
| --- | --- |
| RA | - Gateways to Opportunity Registry-approved Training |
| RV | - Gateways to Opportunity Registry Verified |
| GC | - May Meet Requirements for Gateways Credential(s) |
| QRS | - Approved for QRS |
| EX | - Approved for ExceleRate |
August 23, 2017
06:30 PM - 08:30 PM
Decatur, Illinois
Join this informative session to become more familiar with the Illinois Child Care Assistance Program's (CCAP) policy and procedures, including the application process, provider qualifications, the payment process and parent co-payments. The CCAP is funded by the IL Department of Human Services.
August 25, 2017
09:00 AM - 03:00 PM
Collinsville, Illinois
Presented by: Susan Nevin
This session is designed as an introductory overview of the Hawaii Early Learning Profile (HELP), a curriculum based global assessment tool. Through the use of lecture, group discussion and activities, the history, purpose and objectives of the HELP are presented. Basic administration and scoring protocol are also reviewed. Although this workshop is not intended as proficient instruction in the use of this assessment tool, it does meet the global assessment training requirement for the Illinois Early Intervention System's Developmental Therapy credential.
August 26, 2017
08:30 AM - 12:30 PM
Charleston, Illinois
Presented by: Ann Kremer, Ann Rodgers, Emily Ropars
As a complement, or Part 2, to the EI Training Program's, "Natural Partners: Supporting Families in Early Intervention and Child Care", this follow-up focuses on the Inclusive Classroom Profile (ICP). We know that high quality inclusion results in better outcomes for our young children. This session defines what high quality inclusion looks like through the ICP and how we can support teams implementing these practices. Tools supporting early interventionists and classroom teachers working as a team in self-assessing and in planning for implementation of ICP is reviewed as well as the specifics of high quality practices.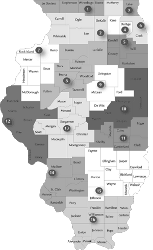 Consists of seven foundational areas and their related indicators, identified by the Professional Development Advisory Council (PDAC), that identify professional competencies, including:
Human Growth and Development
Health, Safety, and Well-Being
Observation and Assessment
Curriculum or Program Design
Interactions, Relationships, and Environments
Family and Community Relationships
Personal and Profession Development