You can email your saved trainings from here. Enter in a list of email addresses (separate them with commas).
| | |
| --- | --- |
| Email Address(es): | |
| Your Name: | |
Training Calendar Search
Search Results
| | |
| --- | --- |
| RA | - Gateways to Opportunity Registry-approved Training |
| RV | - Gateways to Opportunity Registry Verified |
| GC | - May Meet Requirements for Gateways Credential(s) |
| QRS | - Approved for QRS |
| EX | - Approved for ExceleRate |
June 28, 2017
06:30 PM - 08:30 PM
Urbana, Illinois
Join this informative session to become more familiar with the Illinois Child Care Assistance Program's (CCAP) policy and procedures, including the application process, provider qualifications, the payment process and parent co-payments. The CCAP is funded by the IL Department of Human Services.
June 29, 2017
05:30 PM - 08:30 PM
Carbondale, Illinois
What does it mean to be a child care professional? How can you be sure you are getting the support and supplies you need? How can you set effective limits with parents and children alike? In this final class, you will learn about your own professional development and how to take care of yourself so you can continue to care for others.
July 1, 2017
09:00 AM - 12:00 PM
Moline, Illinois
As toddlers mature, their minds are not the only things growing at an incredible rate. You will understand the special areas of physical development in preschool-aged children. You also will learn about fine motor activities that will help preschoolers grow into their bodies while developing proper coordination and movement.
July 1, 2017
01:00 PM - 04:00 PM
Moline, Illinois
Appropriate speech patterns and language skills are crucial to nurturing effective communications by preschoolers. In this third class on preschool development, you will explore how to use a picture and storybooks to lay the foundation for good reading and proper language use. This class comes complete with discussion on how to help children with special needs.
July 6, 2017
06:15 PM - 09:15 PM
Crystal Lake, Illinois
Participants will receive an overview in child development for children birth through early school-age. Emphasis will be on understanding basic milestones in development as well as on strategies used to promote the healthy development of children.
July 8, 2017
08:00 AM - 02:00 PM
Fairview Heights, Illinois
Heart Saver First Aid/CPR AED is a classroom, video-based, instructor led course that teaches adult, child and infant First Aid application and CPR AED used for the Adult, Child and Infant. This course teaches skills with AHA's research-proven Practice-While-Watching (PWW) technique, which allows instructors to oobserve the students, provide feedback and guide the students' learning of skills. This course is for anyone with limited or no medical training who needs a course completion card in First Aid/ CPR/ AED use to meet job, regulatory or other requirements such as Day Care.
July 8, 2017
09:00 AM - 12:00 PM
Moline, Illinois
In this final session on preschool development, you will dive deeper into how preschoolers learn and identify tips for making learning fun. With suggestions for activities that encourage your preschoolers to explore numbers, shapes, colors, and science, this class gives all the information you need to grow and stretch the ability of children to think and understand.
July 8, 2017
01:00 PM - 04:00 PM
Moline, Illinois
Completing the important section on child development, this class looks at school-age children to uncover how their learning and growth differs. With tips on how to better care for school-aged youth, this class also offers you guidance on how to set rules and limits and to get your school-aged kids to appreciate safety and respect.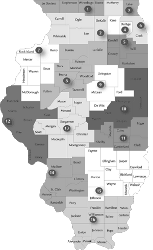 Consists of seven foundational areas and their related indicators, identified by the Professional Development Advisory Council (PDAC), that identify professional competencies, including:
Human Growth and Development
Health, Safety, and Well-Being
Observation and Assessment
Curriculum or Program Design
Interactions, Relationships, and Environments
Family and Community Relationships
Personal and Profession Development