You can email your saved trainings from here. Enter in a list of email addresses (separate them with commas).
| | |
| --- | --- |
| Email Address(es): | |
| Your Name: | |
Training Calendar Search
Search Results
| | |
| --- | --- |
| RA | - Gateways to Opportunity Registry-approved Training |
| RV | - Gateways to Opportunity Registry Verified |
| GC | - May Meet Requirements for Gateways Credential(s) |
| QRS | - Approved for QRS |
| EX | - Approved for ExceleRate |
October 21, 2017
08:30 AM - 11:30 AM
Charleston, Illinois
As toddlers mature, their minds are not the only things growing at an incredible rate. You will understand the special areas of physical development in preschool-aged children. You also will learn about fine motor activities that will help preschoolers grow into their bodies while developing proper coordination and movement.
October 21, 2017
12:00 PM - 03:00 PM
Charleston, Illinois
Appropriate speech patterns and language skills are crucial to nurturing effective communications by preschoolers. In this third class on preschool development, you will explore how to use a picture and storybooks to lay the foundation for good reading and proper language use. This class comes complete with discussion on how to help children with special needs.
October 21, 2017
12:30 PM - 03:30 PM
Carbondale, Illinois
This session will focus on supporting the needs of the late adolescents as they transition into adulthood. Topics will include peer leadership, life skill development, supporting their growing independence, and developmentally appropriate practices for young adults ages 15–21.
October 21, 2017
09:00 AM - 12:00 PM
Carbondale, Illinois
The goal of this session is to raise awareness and discuss this important stage of development, offer information, and point to resources for participants to use. One area that will be highlighted is discipline, as the concepts and approach can prove useful with all ages.
October 21, 2017
12:30 PM - 03:30 PM
Carbondale, Illinois
Preschool children are developing quickly in all areas. This session will discuss how providers can support their development by helping them interact within their worlds on many levels: through their senses, through play, and through movement. Their experiences create a framework for learning that will carry them through later stages of development and into adulthood.
October 21, 2017
09:30 AM - 01:30 PM
Evanston, Illinois
This training is for center-based programs and family child care providers and offers an overview of the Environment Rating Scales. The Environment Rating Scales are user-friendly assessment tools that measure the quality of the learning environment for infants through school-age children. After completing this training, participants will be able to use the tool(s) for program self-assessment and improvement planning.
October 21, 2017
09:30 AM - 12:30 PM
Chicago, Illinois
Si usted es responsable de proporcionar un bocadillo rápido o una comida bien balanceada, entender las necesidades dietéticas de los niños crea niños más sanos y felices. Aprenda los conceptos básicos de una buena nutrición, seguridad alimentaria y diversas prácticas relacionadas con la nutrición a través de esta clase que ofrece actividades prácticas y discusiones prácticas que harán que la ciencia y la buena nutrición sean fáciles de entender.
October 21, 2017
01:00 PM - 04:00 PM
Chicago, Illinois
La seguridad de un niño es la preocupación número uno para los padres y proveedores de cuidado de niños por igual. En esta clase, usted identificará consejos para la creación de un entorno más seguro de cuidado en grupo, afrontará el tema de los abusos y el abandono, y aprenderá más acerca de la preparación para emergencias y primeros auxilios.
October 21, 2017
09:30 AM - 12:30 PM
Chicago, Illinois
Whether you are responsible for providing a quick snack or a well-balanced meal, understanding children's dietary needs creates healthier and happier kids. Learn the basics of good nutrition, food safety, and various practices surrounding nutrition through this class that offers hands-on activities and practical discussions that will make science and good nutrition easy to understand.
October 21, 2017
01:00 PM - 04:00 PM
Chicago, Illinois
A child's safety is the number one concern for parents and child care providers alike. In this third class, you will identify tips for creating a safer group care environment, confront the issue of abuse and neglect, and learn more about emergency preparedness and first aid.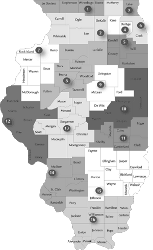 Consists of seven foundational areas and their related indicators, identified by the Professional Development Advisory Council (PDAC), that identify professional competencies, including:
Human Growth and Development
Health, Safety, and Well-Being
Observation and Assessment
Curriculum or Program Design
Interactions, Relationships, and Environments
Family and Community Relationships
Personal and Profession Development